Guide To Picking The Ultimate Water Purifier
What do you look for in a water purifier? With many options on the market now, Aqua Kent places the customer's requirements first and ensures experts who provide satisfactory services. Aqua Kent RO Malaysia is the number one most trusted water filter system in Malaysia. There's only one thing people care about when it comes to water purifiers, and that's safe-to-drink water. 100% bacteria free and impurity free. Choosing the right water filter is really important or you'll end up drinking toxic water. I mean, look at the 3 filters down below:
Plenty of water purifier services in Malaysia are often costly. Not only do you have to buy the product, you also have to pay additional installation fees. We know customers don't mind investing in more expensive water purifiers, but does a hefty price tag really signify quality?
Customers are only concerned about the purity of water. How "clean" can the water purifier filter water. That's totally understandable! Drinking toxic water causes serious physical damage like bodily deformities, cancer and even unseen parasites in the water that lodge themselves in your body. Did you know that drinking water contaminated with excessive amounts of lead can cause neurological damage? In the long run, it affects the brain's pathways and can cause life-long disabilities. Never ever drink from unprotected water sources like poorly constructed wells, rivers, and streams near factories. Bacteria like E. Coli live in the intestines of animals and humans which can cause severe urinary tract infections. It's almost very much present in water. If you notice symptoms like nausea, vomiting, cramps and diarrhea, you might want to analyze the quality of water you have been drinking.  That's how water filters play a great role in today's modern society in purifying water from all sources. Ensuring that no matter where you are and the water source, Aqua Kent still delivers 100% pure water that's safe to drink. A water filter so effective that every day routines become worry-free!
Seriously, you don't want to be drinking water that has gone through a dirty filter. The risks of cheap water purifiers are just too much for you and the people you care about. At Aqua Kent, we use a patented Mineral RO Technology that purifies water twice before consumption. Our water purifiers feature a combination of Reverse Osmosis (RO), Ultraviolet Purifier (UV) and Ultra Filtration (UF) that effectively destroys viruses and harmful particles in water. They seem like fancy words, but they're nothing to be afraid of! In fact, understanding these terms makes it easier to choose a good water purifier. Let's get to it!
Types of Water Purification Methods
Reverse Osmosis
You've heard this phrase before: Reverse Osmosis (RO). The RO process essentially removes large harmful particles through small-sized pores. It's a multistage filtration method that uses high pressure to push water through a semi-permeable membrane that sifts out micro-organisms and minerals.
It's a common purification technique to filter solid contaminants. However, it also removes essential minerals in the process that makes water taste bland. That's why Aqua Kent invented the Mineral RO Technology so minerals are retained even after a rigorous RO process.
Ultraviolet Purifier (UV)

While RO is simply a membrane to catch solid particles, Ultraviolet Purifier (UV) works with a UV light to efficiently eliminate bacteria in your drinking water. Bacteria that could've possibly passed through RO's membrane.

This step destroys pathogens that RO can't entirely eradicate. Best part? It retains necessary minerals and doesn't contaminate the water. Did we mention it's also eco-friendly for the environment?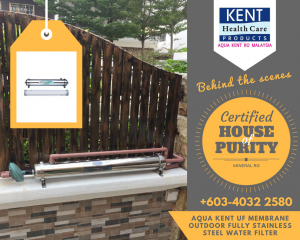 Ultra Filtration (UF) Purification

Finally, water is pumped through Ultra Filtration (UF) Purification. This purification removes bacteria and cysts that can cause serious illnesses. An extra precaution Aqua Kent approved to keep your family protected from harmful chemicals.
Aside from these 3 purification techniques, what else contributes to purifying your water?
Activated Carbon Filters are often used to complement filters of other water purification techniques. It uses activated carbon to absorb dangerous molecules in water. The porous nature of carbon (charcoal) absorbs chlorine and pesticides that are present in most households.
Because the RO process removes everything, Aqua Kent includes a Total Dissolved Solids Controller (TDS) process that's part of our patented Mineral RO Technology. It retains beneficial minerals from being stripped from the water. Making water taste fresh instead of flat.
TDS is a natural occurrence of dissolved solids in water that come from inorganic materials. This includes rocks and air that may contain calcium bicarbonate, nitrogen, iron phosphorous and more.
We strictly do not add any minerals or chemicals to the water just for the sake of making it "taste good". Your health is our priority, and it's our responsibility to deliver 100% purified, non-additive water.
Aqua Kent Water Purifier Features
It's not hard to understand that drinking contaminated water causes illnesses. It ranges from physical harm to even mental distress. So what makes Aqua Kent stand out in the water purifier industry? We combine RO, UV and UF in 6 intense purification stages to produce safe drinking water! Seems confusing? Here's the breakdown:
Stage 1 – Sediment Filter: Raw water from the source goes through a Sediment Filter, removing all large suspended particles. These include mud, sand, rust and more
Stage 2 – Activated Carbon Filter: KENT's specially treated activated carbon further traps chemical pollutants. These include hydrocarbons and foul smells.
Stage 3 – RO Purification: The Reverse Osmosis Purifier removes harmful substances through a semi-permeable membrane. It reduces dissolved impurities like chlorine and fluoride.
Stage 4 – UF Purification: Water is pumped through the Ultra Filtration Purification. UF Purification removes bacteria and cysts that can cause serious illnesses. Keeping your family protected from harmful chemicals.
Stage 5 – TDS Controller: Total Dissolved Solids Controller retains beneficial minerals from being stripped during KENT's rigorous purification process.
Stage 6 – UV Purification: As added protection, KENT uses double purification by filtering water one last time through Ultra Violet Purification. This final step removes bacteria and viruses making water finally safe to drink.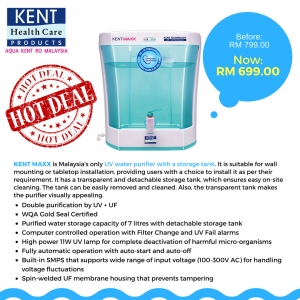 Filmtech RO Membrane
In addition, Aqua Kent uses Filmtech RO Membrane that provides high performance in filtering water. Instead of low-quality membranes, it has a longer performance life in treating extremely contaminated industrial water. Think about it, the more dirty the water, the harder your water filter has to work. But with Filmtech RO Membrane, it lasts longer because it's made of proper quality membrane. That way, you reduce the need for constant servicing and expensive filter cartridges replacements. With FIlmtech RO Membrane in Aqua Kent's products, you will enjoy purified water that's worth the money.
All Aqua Kent products are built with patented Mineral RO Technology that combines an advanced double purification process (RO + UV/UF). Water purifiers' features range from under-the-counter, wall mounted and commercial purifiers for large scale usage. Aqua Kent's options are all equipped with Reverse Osmosis (RO), Ultraviolet Purification (UV) and Ultra Filtration (UF).  They are sleek and elegant, perfect for space constrains. With an added stainless steel tap, you'll have a clutter-free kitchen and crisp drinking water.
If you stay somewhere where water shortages are frequent, consider Kent Supreme! It has 9 litres of purified water storage capacity even without flowing water supply. Keeping everyone in your household covered in case of emergencies. Even without electricity, Kent Supreme's purified water storage is replenished the moment it drops below minimum level. It also cuts off supply from water sources if your household has an electricity short circuit. This prevents unfiltered water from entering the water purifier, and maintaining only clean water for consumption.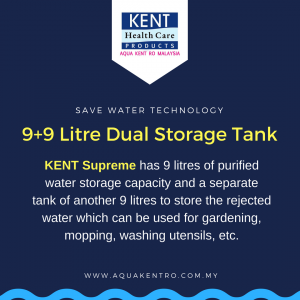 As for households, we recommend cost-effective products that deliver maximum performance. From bungalows to small apartments, our water purifiers range from table top, wall mounted and under the counter for any space.  Products such as KENT Gold+, KENT Gold UF Storage, KENT Supreme, KENT Maxx and KENT Ultra are our best sellers that deliver mineral packed water without any harmful chemicals.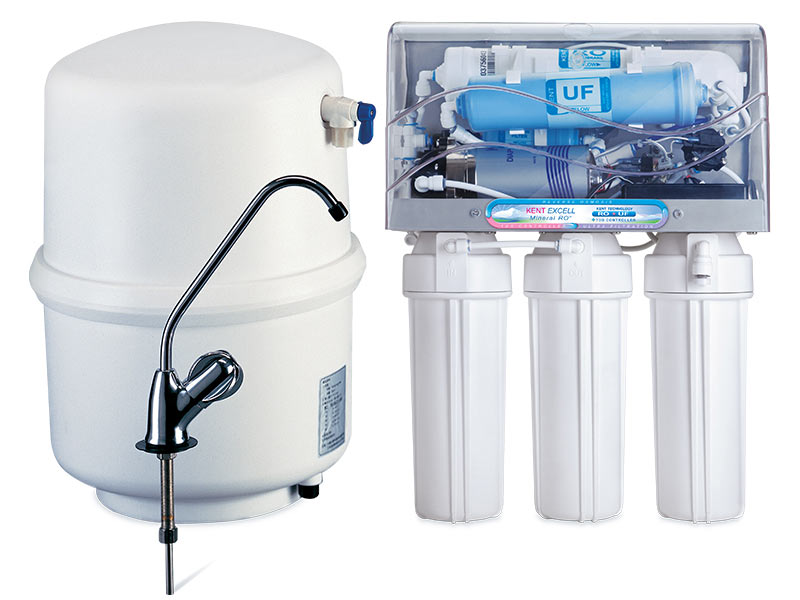 Kent Excell Under-The-Counter / Kitchen Sink RO +UV+ UF Water Purifier
Floor Standing Water Coolers
Most schools are already equipped with water coolers, but are students' really drinking clean water? With outdoor activities and a whole body of students, constant bacteria and dirty particles are floating about your surroundings. It's hard to place your trust in cheap water coolers.
That's why Aqua Kent's Fully Stainless Steel Water Coolers is a range designed to handle heavy duty usage. Check out our wide selection of floor standing water coolers. For primary schools, we recommend Aqua Kent's Normal & Cold Fully Stainless Steel Water Coolers that dispenses only cold and normal room temperature water. That way, schools can prevent hot water accidents in children.
In addition, Aqua Kent's water dispensers that provide hot water also comes with a child lock safety to prevent children from playing with it. These water dispensers are suitable for households, offices, schools, hospitals and other institutions. To save electricity during such high usage, our water dispensers have a high-efficiency fast heating system that's unique in Malaysia. It supplies instant hot water that's 100% purified. Never wait to make hot beverages again when it's simply at the turn of a tap.
Aqua Kent's entire floor standing water cooler range incorporates an advanced WQA & NSF certified 4 Stage Filtration System. It purifies water efficiently by certified European standards, which passes water through multiple stages of sands to catch impurities. The inclusion of glass filler faucets gives users the option of drinking directly from the fountain or filling up a water bottle. Furthermore, the built-in water filter housings are positioned at the base of the unit. That easily purifies incoming water using Aqua Kent's 10" filter and cartridges. The direct connection to water sources increases hygiene and prevents water from being stagnant. You'll enjoy automatic flow of water at all times.
Getting Aqua Kent in 5 Steps!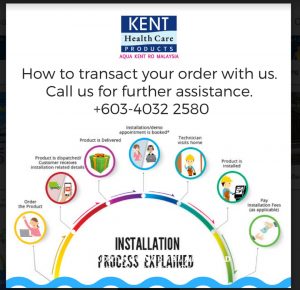 Ordering a water purifier can be a daunting task. But Aqua Kent is determined to make it the smoothest process possible for our customers. Who likes the hassle and paying more money in the process? We provide a one-stop service that Malaysians love! (http://waterfilterpenapisair.blogspot.my/2015/02/review-on-kent-ro-malaysia.html)
In 5 simple steps, you'd be enjoying Aqua Kent's freshest, finest water. Here's how:
Step 1 – Order the Product: See something you like? Simply contact us at +603-4032 2580 or +6019-3211 580. You can also email us at [email protected]. Don't be shy to ask for information before you purchase! We'll provide advice for the most suitable product of your needs.
Step 2 – Product Discussion: Before delivery, we'll walk our clients through the entire process of purchasing, installing, and maintenance. After that, we'll confirm a date for the installation appointment.
Step 3 – Installation: Simply wait for our experienced technicians to drop by and provide a hassle-free installation. Most of our products come with free delivery.
Step 4 – Enjoy Clean Water: Once you're satisfied with the installation, kindly make cash payment, bank transfer or cheque to complete your purchase. We want to ensure quality service worth paying till the end!
Step 5 – After-Sales Service: Aqua Kent provides 1 year warranty service. That's right! 1 year after installation, you can contact us should there be any problems with your water filter! If you require any advice, you experts will simply head over and provide the solutions. All at no additional cost under the 1 year warranty.
Look no further for the best water purifier service in Malaysia. Aqua Kent holds true to being efficient and providing amazing after-sales service. We've formed a reputable and trustable brand worldwide over the years. A reliable water filter system in Malaysia with a high customer satisfaction rate. That's why we won't leave you hanging once you've bought from us! From start till finish, we provide a reasonable price that covers the water purifier, installation, delivery and a 1 year warranty.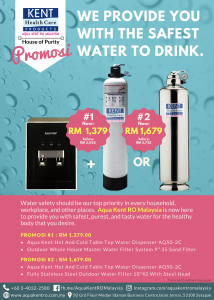 ---
---
---